Camp Kids Klub has TWO locations: Pasadena/Sierra Madre & South Pasadena!
Camp Kids Klub is so excited that our renowned full day camp program will be held at La Salle High School's historic campus! Camp Kids Klub empowers your child to explore from the mountains to the sea and everything in between!
Camp Kids Klub at La Salle School offers 10 fun-filled themed weeks. Each week, campers attend field trips, swim lessons and exciting activities!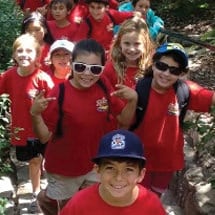 We also offer different 1 week specialty camps: paintball camp, go-kart camp, science camp, a horse academy and so much more! Camp Kids Klub's full day program compliments parents' busy schedules with camp hours from 7:30AM-6PM and extended morning and evening options. Our fun-filled camp days are all inclusive and include breakfast, lunch, and snacks! There are also specialty camps and optional sleepovers that you do not want to miss!
Camp Kids Klub is also in South Pasadena! We offer half-day camp options that include transportation from your child's summer school in South Pasadena!
Academic Enrichment Camp provides formal and engaging education on Math or Spanish camp from 7:30am-12:00pm. Afternoon Camp, 12:00pm-6:00pm, includes swim lessons and field trips and the Afterschool Camp option, 2:30pm-6:00pm, provides a shorter, yet fun-filled day. Our fun-filled camp days include breakfast, lunch, and snacks!
Campers have a BLAST during the day at camp, while parents have peace of mind!
• Array of exciting activities in a safe and nurturing environment
• One of the most trusted, well-respected and popular childcare facilities in Southern CA since 1995
• The ABSOLUTE BEST counselors anywhere!

o Dual commitment to safety first + amazing camp experiences
o Dynamic team with diverse collective talents and love for children
o Every counselor goes through several extensive and intensive staff training sessions including:

• Conflict resolution
• Child psychology
• Interactive games and team building

o All are CPR and First Aid Certified
o All employees are fingerprinted and background checked by the Department of Justice prior to employment
From the Mountains to the Sea & Everything in between!
Camp Kids Klub empowers your child to explore from the mountains to the sea, and everything in between! Our Pasadena summer camps offer something for everyone, including Science, Paintball, horseback riding lessons and many other fun activities! Our staff is committed to providing every camper with the most amazing summer camp experience; browse our brochure and find the right Camp Kids Klub program for your child.
Looking for a Spring or Winter Camp? We've got those too!